:: the farm, 12th september 1999
Competition Winners;
Simon Funnell (me!)
Vernon Parker
Matt Skelland
Rob Woodhams
Organisers who also came along;
Mark Rae
Martin Dean
Lisa Phillips
Organisers who didn't come along;
Manir Donaghue
Louise Donaghue
Guided by;
Dale Newman (all round nice bloke)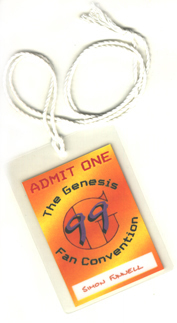 The trip started with a drive to a pub called The Crown in Chiddingfold, where it had been arranged for us to meet up with Dale Newman and also where lunch was consumed. Dale arrived, told Mark how to get to The Farm and disappeared off again to open up after a brief "Hello." We met up with Martin and Lisa outside the pub a few minutes later and went off to follow Dale's directions.
Five minutes driving later, and we arrived. The Farm has a very unobtrusive entrance that could be easily missed. No neon signs, barely any signs at all. Once in and behind the gate, we parked up next to The Barn and just in front of a yellow Genesis flight case. We were definitely in the right place.
The main house sits just across from The Barn, behind a perfectly manicured lawn. A big white house, the one that is always seen in pictures of The Farm.
First stop was pretty much Dale's office (he's getting into astronomy - a watcher of the skies?) In here were several cabinets full of tape reels. Dale opened one and casually produced a copy of Foxtrot on tape (I guess not the master since the cabinets didn't look fire proof.)
In the house, we were shown around the living room. Being a keyboard player, Mark instantly fell in love with the white painted Hammond organ that was sitting to one side of the room with a couple of plants on it. Dale told us that this was the organ used on stage during the Selling England Tour and was painted white to match with the rest of Tony's kit.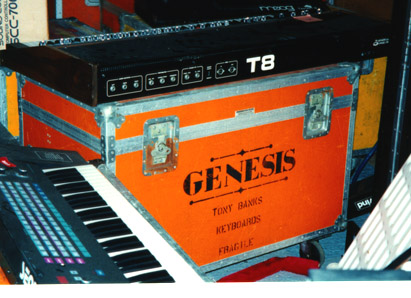 Next stop was the "Up-All-Nighter". This is a wooden shack that is now the workshop. Pieces of equipment, too many to mention, were lying around here in various states of repair. Dale told us that the reason for the name of the shack came from when he first joined Genesis. At a time when it was all sex, drugs and rock and roll. Genesis, he said, did all of these! Whether he meant that every member did all of them is open to question.
Then over to The Barn. Floor to ceiling equipment, some in working order, some not. All dusty. A real Alladin's cave! Dale said that Genesis have never been ones to throw anything away. Consequently, everything that they have ever owned appears on the insurance register. Apparently, after tours, they would give a guitar to Daryl, but it would never be removed from the register. Dale was therefore going through the painstaking task of cataloguing everything that they actually still have and marking it with either a SOLD sticker (he didn't have any FOR SALE stickers) or a "K" sticker (for Keep.) He also has a stage for sale for a quarter of a million pounds - any takers?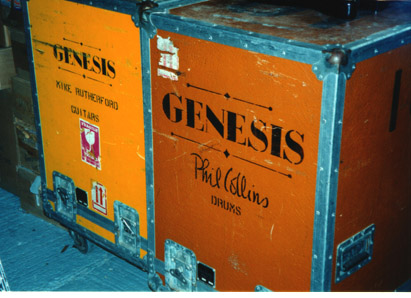 A guy had been in touch with Dale from America. He had said that Dale could name a price for all the equipment and he would pay it. The guy would then auction off the equipment. Dale had no idea whether this would happen or not, since it could easily cheapen the band's image. It was interesting to note how little Genesis memorabilia there was around. A couple of posters and that was about all. Various videos of the farm usually show lots more posters and gold discs, but these had been removed so as not to make the studio intimidating to other groups.
Last up was the grand finale. A wander over to the studio. In through the door and into the lounge (needs Quicktime plug-in) where both Genesis and other bands can relax.
Since it took Genesis five years to produce their last album, in order to keep the studio's a viable option, it is now used by other bands. The Cure had been in last week recording their new album, and Mansun (not Hanson!) were currently in there. We were told not to touch anything!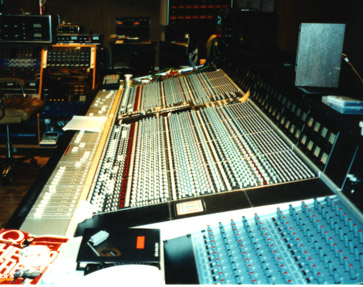 Into the mixing room (needs Quicktime plug-in). Wow, what a mixing desk. It's huge. Well that's the impression I got but then I don't see a great deal in the way of mixing desks in my normal line of work. Time for the obligatory photo taken by Mark for the G99 web page. Vernon and Matt forgot to wear their yellow G99 shirts and got their knuckles rapped by Mark ;-)
The mixing desk looks out towards the rest of the studio. Apparently a great deal of work these days is done actually behind the mixing desk (on the sofa.) Mansun had been recording guitar in the mixing room itself.
Through the door and into the studio (needs Quicktime plug-in) itself. Firstly into the part of the studio where Mike and Tony would sit (one way or another.) In here there is a black Steinway grand piano on which Dale later played us the first minute or so of his new album which isn't yet written.
Through some sliding glass doors and into the drum studio. A relatively small room with either stone cladding or real stone walls to reflect the sound.
On and into the editing room. This actually used to be the mixing room and was where the album Abacab was done. After that, they realised that it was too small and built the mixing room that exists today (about five times bigger.) Sitting on the desk was a copy of the forthcoming "Hits" album on tape (not a C90 ;-) ) Carpet Crawlers being the last track.
Also scattered around were some boxes with Queen written on them. These were apparently some tapes that they had sent to The Farm for copying (part of a Queen Archive Boxset perhaps? It looked as though it was from Knebworth 9/8/86) Back into the mixing room where I hurriedly re-loaded my camera and back outside.
On the way back to the car, as we crossed the driveway, Dale told us how the beginning of Illegal Alien had been recorded where we were standing. They all stood outside with their car's, honking the horns and revving the engines to make street sounds.
And that was about it. We said a very big thank you to Dale, shook his hand and got back into the car for a drive back to Guildford.
On behalf of the four of us, I would like to say a huge thank you to all of the G99 team for a wonderful weekend, and especially for organising a trip around The Farm. Probably a once in a lifetime experience. Thanks to Mark for driving, even though he was under a great deal of stress! Special thanks to Dale for giving us an entertaining and enlightening tour. Thanks also to Chris for waiting around in the car in Guildford.
Well, that's how I rememeber it anyway. One for the photo album!
Simon Funnell (simon@genesis-movement.org)